Arrival and Transport
Before Arrival
Participants are advised to buy relevant medical and travel insurance to cover the period of your stay.
Getting to Hong Kong
If you are arriving by air, you will fly to the Hong Kong International Airport (HKG), which is just around 30 minutes from downtown by the MTR. For more information about public transportation to and from the Hong Kong International Airport, please click here.
Travellers from Shenzhen in Mainland China via the Lo Wu and Lok Ma Chau checkpoints can take the MTR into town after passing through Hong Kong Immigration.
Due to variations in legislation of different countries, some items considered legal at other points of embarkation or disembarkation can be considered illegal in Hong Kong. Check for the types of items that are prohibited/controlled into or out of Hong Kong at Hong Kong Police Force and Hong Kong Customs and Excise Department.
Getting to the EMedic Global Venue
The EMedic Global 2016 will be held in the Lee Woo Sing College, The Chinese University of Hong Kong. Download a campus map for your visit.
VENUE: Lee Woo Sing College
ADDRESS: Residence Road, The Chinese University of Hong Kong, Shatin, NT, Hong Kong

The Chinese University of Hong Kong is conveniently located at the University Station on the MTR East Rail Line. Click here for directions to CUHK.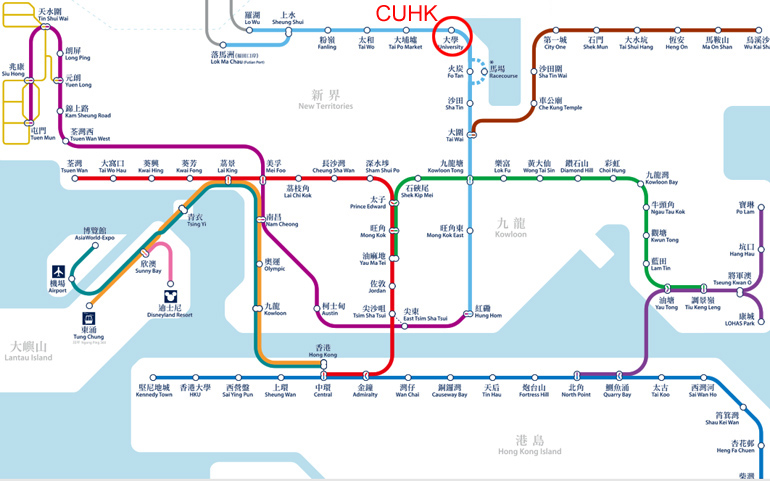 MTR Map: http://www.mtr.com.hk/en/customer/jp/index.php
If you are travelling from the Hong Kong International Airport, you can take the airport bus A41. The journey is about an hour and costs HK$ 22.3. Take off the bus at Shatin Central Bus Terminal and walk to the Shatin MTR station, which is two stops away from the University MTR Station. You may also take a taxi from the airport to CUHK, the journey takes about 45 minutes and costs around HK$ 250 by green taxi or HK$ 320 by red taxi.
Click here for the directions to Lee Woo Sing College after you arrive CUHK campus. There is free shuttle bus service to go to various parts of the campus from the University MTR station. You can take shuttle bus route 3 or 4 to go to Lee Woo Sing College. Take off the bus at Residences 3 & 4 (2-min walk down the hill) for route 3 (Stop #5) or Chan Chun Ha Hostel (right opposite) for route 4 (Stop #7).
If you need parking information, please click here for the locations of visitors parking. Parking coupons can be provided upon request.
Explore Hong Kong
Traveller tips
The currency in Hong Kong is the Hong Kong dollar (HKD). To check the latest currency conversion, click here.
The standard electrical voltage in Hong Kong is 220 volts AC, 50Hz. The electrical outlets in Hong Kong take a three-pronged UK-style plug.
August in Hong Kong is hot and humid, with occasional showers and thunderstorms. Click here for updated weather information in Hong Kong.
Purchase your Octopus card to access most of the city's public transportation (except taxis) and make payment in many restaurants & retail stores, including canteens & supermarkets at CUHK campus. An On-Loan Octopus with a refundable deposit of HK$ 50 is available in all MTR customer service centres at all stations (except Racecourse station). A refund handling fee will be charged if you return the On-loan Octopus less than 90 days from the date of issue.
You can pick up a prepaid SIM card at most convenience stores. The SIM card offers free local call, free WiFi, bundles of mobile data, as well as cheap international calls and SMS messages.
More about CUHK
Our scenic campus overlooking Tolo harbor is the largest and greenest in Hong Kong.
Click here for information of facilities & services in CUHK, including the canteens, grocery store, ATM and others.
CUHK is a smoke-free campus, i.e. smoking is banned in all indoor and outdoor areas of the University.
Lemon pie at Choh-Ming Li Basic Medical Science Building Snack Bar is considered a must-eat food in CUHK
Things to do in Hong Kong
Hong Kong always has a festival going on, click here to see which event is going on during your stay here.
While staying in Hong Kong, don't miss out these attractions.